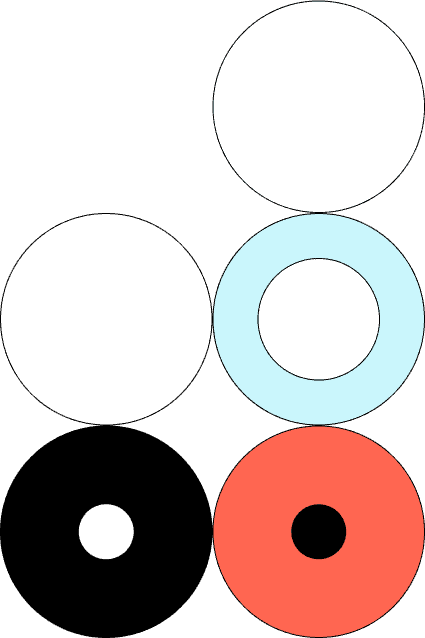 How many magazines are printed?
The typical print run for Consumer Claims Journal is 3,300 pieces.
Who receives copies of Consumer Claims Journal?
Over 2,000 pieces are mailed directly to NAPIA members and 1,300 are distributed at in-person events including two NAPIA conferences and four FPCC events.
Who reads Consumer Claims Journal?
Readers of CCJ include the top Public Adjusting companies in the country as well as top law firms and related vendors serving the PA Industry.
What type of Advertisers will Consumer Claims Journal Accept?
Consumer Claims Journal is happy to extend advertising opportunities to any business that supports and gains business from the Public Adjusting industry. If you do not see your industry listed below, please contact us to discuss your options.
Accounting
Adjusting Software Providers
Agency Management Software
Appraisers
Associations
Attorneys
Bonding Agencies
Claim Consultants
Collection Agencies
Contractors
CPA Firms
Engineers
Funds Administration
Funds Control
Insurance
Lending
Payment Management
Public Adjusters
Re-Insurers
Risk Management
Software
Temporary Housing Companies
What Sizes & Format Can I Send Ads In?
All digital greyscale and color art should be between 300 to 600 Dots Per Inch (DPI). The images should not be scaled beyond 75% and 125% of the image's original size.
The following digital file types are accepted:
All Adobe Products – Acrobat (PDF files with fonts embedded), InDesign (INDD or IDML files with accompanying links and fonts included), Illustrator (EPS or AI files), Photoshop (JPG, PNG, TIFF, PSD).
Accepted but not recommended: Powerpoint, Word, Publisher, Excel
Not accepted formats: Freehand, Corel Draw, Paint, Quark
Vector artwork should be saved in an .EPS format with fonts and images embedded, or all images and fonts must be supplied.
All screen and printer fonts must be provided.
We will substitute with similar fonts if the originals are not submitted.
Text can be converted to outlines, but new art may need to be submitted if proofing errors are discovered.
Images from the web are not suitable for printing.
All work should be in the CMYK (Cyan/Magenta/Yellow/Black) mode, as this is required for printing.
If an RGB (Red/Green/Blue) file is submitted, it must be converted to CMYK. When the conversion takes place, color shifts can occur.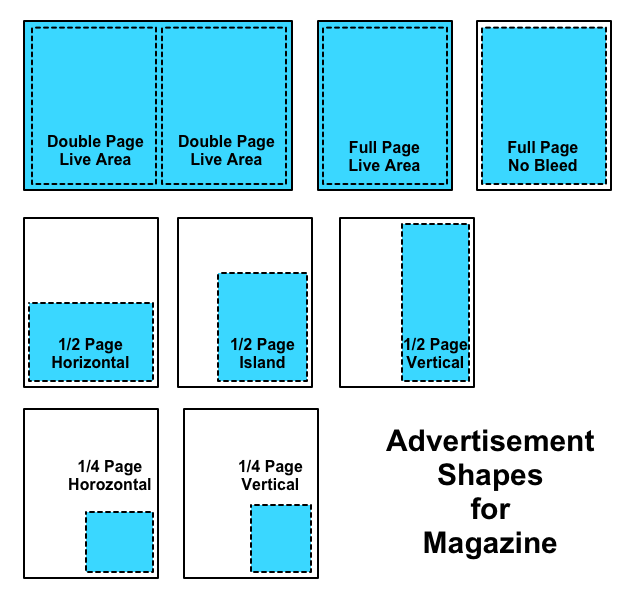 (W x H) Inches
Double Page Spread with bleed

17″ x 11.125″

16.75″ x 10.875″

7″ x 9.5″ per page

Double Page Spread, no bleed

15.417″ x 9.5″

7″ x 9.5″ per page

Full Page with bleed

8.625″ x 11.125″ Bleed; 7″ x 9.5″ Live

Full Page, no bleed

7″ x 9.5″

1/2 Page Horizontal

7″ x 4.583″

1/2 Page Island

4.583″ x 7″

1/2 Page Vertical

3.333″ x 9.5″

1/4 Page Horizontal

4.583″ x 3.333″

1/4 Page Vertical

3.333″ x 4.583″
Rates are net and per insertion. Premium positions are an additional charge. Reservation is on a first-come, first-served basis.
What If I Don't Know How To Create an Ad?
Our Graphics Team can work with you to create custom Advertising. Pick a size you want to purchase, gather your digital assets, such as your logo, and contact our team! We will work with you to complete the rest.
Artwork Creation
1/4 page to 1/2 page = $150.00
Full page = $250
Double page = $400
I have more questions, who should I contact?
If you have questions or encounter problems this site can't answer, please email the Publisher at ccj@publicadjusterconference.com.
The advertiser indemnifies the Publisher (Wizard Events, LLC) and the Association (National Association of Public Insurance Adjusters) against losses or liabilities arising from this or any advertising. The Publisher assumes no liability, except for a one-time free advertisement of the same specification, the next, or similar publication, if proven or admitted errors or omissions have occurred. Revisions to previously submitted ad copy are subject to additional charges. A charge of $50.00 will be levied for returned checks. Advertisers also give unqualified consent to our ad(s) appearing in an online version of this publication. Acceptance of this contract and advertising content is subject to the Association's approval. The advertiser represents that they have the right to use any artwork supplied to Publisher in the manner contracted. All guaranteed (premium) position sales cannot be canceled. Any cancellation must be requested in writing before the Cancellation Deadline. Advertisers will be billed the amount short-rated per issue if, within one year, they do not run the number of insertions upon which their billings have been based. The Artwork Creation Charge is not cancellable once the ad has been created.